I am writing this review based on my personal experience with Prostate Revive. This article contains a Prostate Revive Review.
What is Prostate Revive?
Prostate revive is an all natural nutritional supplement offered by Medix Select, a line of dietary supplements. Medix Select is one of the nation's premier nutraceutical companies—a company that sells natural products (mainly vitamins, minerals or herbs) for the benefit of health. I'm using other supplements offered by Medix Select and I can honestly say, their products work!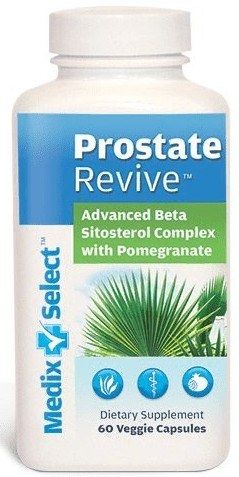 Prostate Revive was formulated specifically for men by Dr. Brownstein who is a board certified family physician and one of the foremost practitioners of holistic medicine. His specialty is family medicine and has been in practice for more than 20 years.
Prostate Revive contains 15 natural ingredients when combined provide normal prostate health, urinary frequency and flow. It also reduces the possibility of inflammation to prostate tissues.
Other symptoms of an enlarged prostate that may be alleviated include:
 Frequent trips to the bathroom to urinate, especially during the night
 The discomfort of sitting even for short periods
 Performance issues with intimacy
Please note that if these symptoms are not corrected, an enlarged prostate can cause serious urinary problems.
What are the Ingredients of Prostate Revive?
The natural ingredients of Prostate Revive are as follows:
Saw Palmetto Extract: This is the extract of the dwarf palm plant. It is one of the well-known cures for prostate problems. The benefit of this extract is that it reduces or prevents the transformation of testosterone to DHT (dihydrotestosterone). DHT is a sex steroid, meaning it is produced in the gonads. It is also an androgen hormone.
Androgens are responsible for the biological characteristics of males, including a deeper voice, body hair, and increased muscle mass. During fetal development, DHT plays a vital role in the development of the penis and prostate gland.
At age 40, when the level of DHT begins to rise, the level of normal testosterone lowers. This is one of the main reasons why the size of the prostate increases; causing more pressure on the urethra thus restricting urine flow.
Beta-Sitosterol: The benefit of the plant is that it lowers the level of the 5-alpha reductase enzyme to reduce DHT.
Pomegranate Fruit Extract: The extract of the pomegranate fruit have powerful antioxidant effects. This product helps to keep the prostate cells healthy. According to the Mayo Clinic, some early research suggested that drinking pomegranate juice slowed the progression of prostate cancer, but additional research has failed to confirm those results.
Pumpkin Seed Powder: It contains phytosterols; which reduce the enlargement of the prostate and reduce the transformation of testosterone into DHT. Besides, the results of one small study showed that pumpkin seed improves urinary disorder in human overactive bladder.
Pygeum: It is a bark of an African plum tree.
Boswellia Gum Extract: The extract is used to sustain joint health also, to promote appropriate inflammatory response.
Stinging Nettle Root: helpful in relieving the urinary problems due to an enlarged prostate
Lycopene: Lycopene is typically found in tomatoes. It has enormous antioxidant effect.
Flower Pollen: The extract of the flower supports the healthy size of the prostate and helps to relieve urinary symptoms. Several studies suggest that the use of flower pollen extract for the management of chronic prostatitis patients is beneficial.
Hydrangea Root Powder: The powder has a powerful antioxidant. It supports the size of the prostate and its functioning.
Vitamin E: Vitamin E is known for its antioxidant effects.
Selenium:
Considerable research highlights the importance of selenium for optimal prostate health. It has properties that can control inflammation.
Vitamin D3: is one of the most powerful healing chemicals in the body.
Vitamin E: Known for its antioxidant resources, vitamin E provides prostate health support.
Zinc: Scientists have long known that zinc plays a fundamental role in maintaining the health of the prostate, especially as you grow older. Zinc is also helpful in maintaining the proper size of the prostate.
Copper: Copper is a trace mineral vital to the health and function of the prostate. A nutritional supplement designed for optimal prostate health should always maintain a correct balance between zinc and copper, because zinc can reduce the absorption of copper in the body.
Note that these ingredients are said to be well-known and powerful.
The Advantages of Prostate Revive
Prostate Revive can enhance your urination by increasing the flow and promote better sleep at night by reducing your trips to the bathroom. It can also provide you with serious anti-inflammatory properties preventing prostatitis. It may enhance your ability to reduce leaking during urination. Lastly, it could potentially minimize the frequency with which you are going to the bathroom overall.
It is safe, as the supplement is made of merely natural ingredients. So, they cannot have a bad influence on health. As of the publishing of this article, no side effects have been reported of Prostate Revive.
My Personal Experience
My personal experience with Prostate Revive has been a very positive one with regard to my prostate. Once I recognized the symptoms, I didn't wait until they got worse, I took action. I began using this product 8 years ago after using another product for about 2 years which was working, but I was impressed with the ingredients of Prostate Revive.
I have an enlarged prostate and I was having the following symptoms:
Weakened urine stream
 Up to three bathrooms trips at night
 Inadequate prostate function
All of the above functions normalized while taking Prostate Revive. I now make 0-1 trips to the bathroom at night. The improvements began after about 7-10 days after commencing usage. At some point I stopped taking it out of neglect and the symptoms began to return. At that point, I resumed taking it and I haven't stopped since and I have had no side effects.
I am examined annually by a urologist and the prostate is still enlarged but normally for my age, with no inflammation or symptoms.
If you or someone you know is having issues with their prostate, I highly recommend this product.
It is available at Amazon in 30 or 90 day supply.  Click here for prices.   (paid links)
For more detailed information on the prostate see my article: https://universal-health-products.com/all-about-the-prostate/ 
Please feel free to leave any question comment or concern below