One of the most common medical complaints today is memory difficulties. Depending on the degree of the issue, the cause can be anything from a serious medical condition to a diet deficiency. This article focuses on the latter. Supplementing our diets with a memory supplement may be the avenue to keep our memories sharp. Cresceo the brain supplement is one such supplement.
What is Cresceo?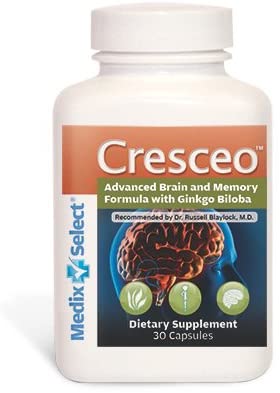 Cresceo is an all-natural supplement that is scientifically developed with hand-picked crucial nutrients. This natural stimulant demonstrates promise in improving cognitive performance.
Cresceo was created by the certified neurosurgeon Dr. Russel Blaylock and is manufactured by an American company named Medix Select. It is a powerful combination of four clinically proven ingredients that are essential to brain health. These naturally resulting components reportedly help in optimizing general brain health, easing age-related mental deterioration, and enhancing cognition performance. This dietary supplement is available in capsule form and is sold in bottles with quantities to serve for 1 to 3 months.
Dr. Russell Blaylock, M.D. in addition to being a neurosurgeon he is an author who authors a regular newsletter named The Blaylock Wellness Report. He has written four books, which include Excitotoxins: The Taste That Kills, Health and Nutrition Secrets That Can Save Your Life, Natural Strategies for Cancer Patients, and Cellular and Molecular Biology of Autism Spectrum Disorders.
Currently, he is part of the Medix Select four-member Medical Advisory Board. Before joining the board and initiating his nutritional science studies, he performed neurosurgery for 26 years.
Medix Select produces and promotes high-quality dietary supplements, vitamins, and health products that support complete wellness and optimized function of the human body.
Medix Select, a division of Medix Health LLC. and was formed in direct response to the necessity for high-quality dietary supplements that focus on certain conditions and ailments. For example, there are supplements specifically for the eyes, thyroid, joints, heart, blood pressure, cholesterol, etc. The Company accomplishes these solutions by focusing on creating premium formulas with select ingredients.
These quality products and formulas are explicitly designed for the highest potency, safety, and efficacy. This is accomplished because:
All of the formulas are personally created by doctors, medical researchers, or scientists, causing these formulations to be the most advanced nutraceutical supplements available today.
Their state-of-the-art laboratories with highly qualified staff Ph.D. scientists put forward the most advanced technology available today.
 Good Manufacturing Practices (GMP) certified facility outfitted with the most up-to-date technological advances, strictly conform to highest measures of GMP standards today, with full FDA-cGMP certification.
Additionally, I am using other Medix Select products and they all have been very effective. To sum up, their stuff works!
What are the Ingredients in Cresceo?
Medix Select asserts that Cresceo is a superb blend of natural ingredients that have been clinically studied for effectiveness and safety. There is assuring evidence that is based on several positive customer reviews that Cresceo can be effective in improving cognitive functions, increasing retention rates, and reducing age-related memory loss. The ingredients are as follows.
Gingko Biloba – having beem used in Asian medicines for centuries, this herb is flaunted for its brain-boosting resources. Gingko Biloba is believed to assist with cerebral insufficiencies by escalating the circulation of blood and oxygen to the brain. Additionally, studies have shown that the herb can enhance general brain capacity, minimize depression, and possibly control an assortment of neurodegenerative diseases such as schizophrenia and dementia. The amount of 300mg of Ginkgo Biloba contained in each capsule has been shown to increase circulation in the brain while sustaining cells in the hippocampus, which is where new memories are produced.
Ginkgo Biloba additionally aids in the enhancement of energy formation by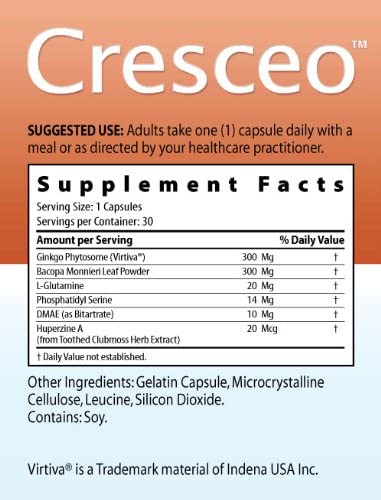 brain cell mitochondria, which is essential for memory and for aiding with the protection against excitotoxicity. As individuals age, a certain enzyme called MAO-B increases in the brain and adds to age-related cognitive impairment. Ginkgo helps inhibit MAO-B.
Although ginkgo extract has been widely examined, the machinery by which it aids in cognitive function is indecisive. Some researchers believe ginkgo is effective because it increases blood circulation, while others observe that it helps support the synapses in the brain which is the point at which a nervous impulse passes from one neuron to another.
In an arbitrary, double-blind, placebo-controlled study published in3.0.CO;2-C"> Phytotherapy Research,
thirty-one (31) volunteers ages 30 to 59 took 120 to 300 mg Ginkgo Biloba extract for two (2) days. The researchers reported enhancement in working memory, with the best results in 50 to 59-year-old individuals.
In another double-blinded, placebo-controlled study, reported in Psychopharmacology, one group of test participants were given 120 to 360 mg of Ginkgo Biloba and then measured their attention span after six hours compared with another group that received the placebo. As indicated by the report in Psychopharmacology, the researchers concluded that significant administration of Ginkgo Biloba could produce a sustained improvement in attention in healthy young volunteers.
Huperzine A – This is an extract resulting from a plant named Chinese club moss that is established in Southeast Asia and India. It is believed to be useful for issues such as cognitive function, mental decline, weakening memory, and having an effect on the levels of neurotransmitters in the brain.
Huperzine A acts as a cholinesterase inhibitor, which means that it reduces a chemical that would typically lessen choline levels in the brain. This can result in better memory and test performance.
In a double-blind study printed in Acta Pharmacological Sinica, 34 pairs of junior middle school students expressing issues with memory inadequacy were divided into two (2) groups. One group took 50 micrograms a day of Huperzine-A for four (4) weeks, whereas the control group obtained a placebo. After one month, the students that took Huperzine-A showed a 10.5% advancement in their "Memory Quotient," which is a standard measure of memory, as opposed to the control group.
Bacopa Monnieri – Bacopa Monnieri (Brahmi) is a long-established Ayurvedic therapy that has proven advantageous for increasing cognitive function, memory, and lessening anxiety. Brahmi is an additional plant well-known for its potential to keep the mind sharp and the memory strong.
Findings point toward the antioxidants found in Brahmi that can assist in lessening the symptoms of Alzheimer's by protecting the brain against neural oxidative stress (free radicals). For more information on oxidative stress and free radicals, please read the article, What are Free Radicals and why are they Bad, on this website.
Dr. Blaylock's formula gives yields 300 mg of Brahmi daily. This is the most favorable dosage recommended by research.
Cresceo is reported to improve the speed of visual information processing while additionally boosting learning rate and memory. The makers of Cresceo refer to the results of a study when 67 adults received between 300 and 450mg of Brahmi a day. By the end of three months, Brahmi was shown to reduce the rate of forgetting newly acquired information (short-term memory).
Phosphatidylserine Isolate (PS) – Finally Yet Importantly, this is another main component in this brain and memory formula. This powerful nutrient is well-known for maintaining the brain cells in a healthy state, intact and performing most favorably. This chemical compound is believed to help restore receptors on brain cells, which helps neurotransmitters communicate more efficiently with one another.
For example, a study published in the journal Nutrition established that, for older individuals with moderate age-related cognitive impairment, phosphatidylserine has formed consistent modest increases in recall of word lists.
In another study, 157 patients chosen randomly received either PS or a placebo for fifteen (15) weeks. Verbal instantaneous recall in the PS group was appreciably improved. This result indicates that PS may assist in improving cognitive performance in non-demented elderly individuals with memory complaints.
Another study printed in Neurology followed one hundred forty-nine (149) patients taking either PS or a placebo for twelve (12) weeks. Individuals treated with PS improved their execution on tests related to learning and memory tasks of daily life. The researchers concluded that phosphatidylserine shows the potential of being a candidate for the treatment of memory loss later in life.
Credible research suggests PS can stem the progression of Alzheimer's, boost memory, help with depression, and slow down the state of mental decline.
These four (4) ingredients work in concert to improve memory, learning, and cognition.
On top of the four (4) brain booster elements listed above, Cresceo includes a small number of other ingredients: Vegetable capsule ( Cellouse ethers), Leucine, Microchrystalline Cellouse, Silicone Dioxide, soy.
Where to buy Cresceo
Cresceo can be purchased online from the official MedixSelect.com website as follows:
— One Month Supply (30 Capsules): $39.95 plus shipping and handling
— Three Month Supply (90 Capsules): $89.88 plus shipping and handling
— Three Month Supply with Autoship Program: $79.92 plus free shipping – with autoship, a new supply is sent every three (3) months to avoid running out of supply. Autoship also yields the largest discount.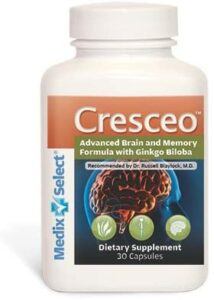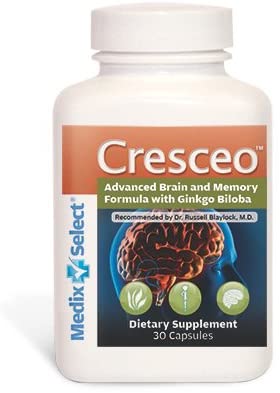 Cresceo can also be purchased from Amazon [affiliate link] as follows:
— One month supply (30 Capsules): $39.95 plus shipping and handling                                         — Three Month Supply (90 Capsules): $119.95 plus shipping and handling – Amazon does not offer autoship.
Medix select offers a 30-day money-back guarantee if not satisfied.
My Personal Experience
Positive
My experience with Cresceo is a positive one. I have used Cresceo for five years and in my personal experience, it does make a difference.
I was having an issue with recall. I found myself struggling to remember facts that I knew but just could not bring them out when I needed to. It was the only issue I was having but it was a cause for concern for me.
After taking Cresceo, I began to notice the difference and I can only wonder what it would have been like if I had not taken some action. My memory and recall are what I consider normal (at least for me). I am no scholar but I least I can remember and recall my name!
Negative
The only negative side of my experience with Cresceo is the amount of time it takes to notice the effects. For me, it began about a month and a half for me to notice the difference and it progresses gradually from there. In fact, the benefits still seem to be progressing after five years. In many cases, natural products do not work as fast as prescription-synthetic products but on the other hand, there is less of a concern for side effects.
I have not experienced any side effects from this supplement.
To be fair, about halfway through this five-year period, I stopped taking it and it took a couple of months for the effects of Cresceo to cease as well. I thought I was cured! However, after that observation, I immediately resumed my smartship plan with Medix.
Anyone who decides to try Cresceo should give it at least three months to see the benefits.
It is advisable before taking any supplement that a medical professional is consulted especially if an individual is taking medications for other conditions.
Any questions, comments, or concerns, can be left below.
Good Health!!